无论在现场或实验室,alconox产品都能满足您对环境监测设备清洁的需求
现场试验证明,在取得地下水,地表水,土壤或沉积物等样品后,alconox产品能有效清洁取样设备,如:玻璃器皿和实验室,并且防止交叉污染。
alconox清洁剂能提供实验室品质的清洗等级,无残留,满足环境监测要求
Alcotabs:发挥弯管清洁器的最大清洁性能
Citrajet: 低泡沫酸性清洁剂,用于去除环境监测设备中残留的微量的金属
Citranox:强酸,用于去除环境监测设备中残留的微量的金属
Detergent 8:用于要求无磷的环境监测设备的清洗
Liquinox::无磷,用于要求无磷的环境监测设备的清洗
Solujet:完全无磷的液体清洁剂,用于要求无磷的环境监测设备的清洗
Tergajet:完全无磷的粉末清洁剂,用于要求无磷的环境监测设备的清洗
IN THE FIELD OR IN THE LAB ALCONOX PRODUCTS MEET ALL YOUR ENVIRONMENTAL CLEANING NEEDS!
In groundwater, surface water, soil or sediment sampling, field-proven Alconox environmental cleaning products get sampling equipment, glassware, and labs clean while preventing cross contamination.
Alconox environmental cleaning products provide laboratory quality, residue-free cleaners to meet the demanding needs of environmental professionals: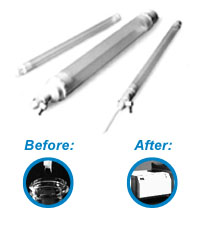 Before:

Environmental field tests subject equipment to chemically aggressive environments.



After:

Mass-spec equipment blanks show LIQUI-NOX leaves no interfering trace levels of contaminants.