食品饮料生产设备清洗剂
alconox食品级清洗剂能有效清洁食品加工设备,以及有效延长食品和饮料的保质期,延长加工设备的使用寿命,包括高端的食品级日常清洗,反向渗透和超滤设备的清洗,不留下干扰性的残留物
alconox食品级清洗剂通过肉类和禽类加工厂的联邦审查,高品质的清洗,无任何有害物质残留
Alconox:高乳化的去油清洁剂
Citrajet:日常清洗用的强酸清洁剂
Detojet:重度烤箱污染物清洁剂
Tergazyme: 酶活性清洁剂用于去除生物蛋白
Alconox food grade cleaners are effective for cleaning food processing equipment and prolonging the life of food, beverage, and dairy processing equipment -- including difficult food grade dairy cleaning, or UF and RO installations -- without leaving interfering residues.
The Alconox food grade cleaners provide the extra level of assurance for difficult residues found on process equipment used from meat to milk processing: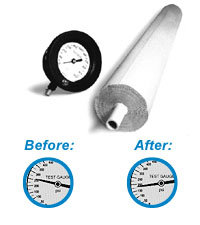 Before:

Reverse osmosis membranes must be cleaned with food grade cleaners to yield required flow through rates - without contaminating food products.



After:

After cleaning with TERGAZYME brand, diaphragm shows required drop in pressure differential - with an increase in permeation flow.