医疗设备必须按照规定的清洁规范清洗,以保证看病的人或则动物的身体健康
alconox的清洗剂被广泛应用于医疗设备的清洗几十年了,并通过了医疗行业的相关认证,医疗行业常用产品如下:
Alconox:精密粉状清洁剂,用手工刷洗,超声波清洗医疗设备
Citrajet:低泡温和的酸性清洁剂,可以用来去除金属氧化物,微粒,也能安全用在铝制品表面的清洗,可以用机器清洁,它是用在医疗器械清洗和医疗设备的验证上的。
Citranox:温和的酸性清洁剂,人工清洗或者超声波清洗,它是用在医疗器械清洗和医疗设备的验证
Liquinox:人工清洗或者超声波清洗的方法去除油脂,它是用在医疗器械清洗和医疗设备的验证上的。
Solujet:低泡沫,高PH值,洗涤机和超声波清洗为主,它是用在医疗器械清洗和医疗设备的验证上的
Medical device cleaning by definition requires critical cleaning for use in demanding human health and veterinary applications.
Many Alconox products have been used for decades and are widely accepted throughout the medical device industry for medical device cleaning during and after medical device validation. Some of the more commonly used Alconox cleaners are listed below: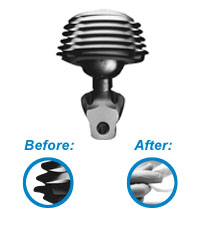 Before:

Medical devices - such as prosthetic hip joints - must be critically pre-cleaned prior to coating and packaging.



After:

Swab and extraction tests validate successful cleaning with Alconox-brand detergents.