能清洗大部分的生化检测设备

从细胞培养旋转瓶到发酵罐,alconox的清洗剂能够保证结果可靠,无干扰残渣,满足生化检测设备的清洁要求,通过清洁确认测试,用于实验室合格鉴定和设备检查核,甚至是长期积累污染物需要清洗的发酵罐搅拌轴,涡街流量计,套管等都能用alconox的相关产品彻底清洗干净。
当大量投入生产时,alconox依然能够提供有效的清洗,以保证产品质量

Citrajet: 低泡沫酸性清洁剂,用于两性蛋白清洗洗
Liquinox: 必须的液体清洁剂,刷洗,和浸泡式的方法清洗生物反应容器和设备
Solujet: 低泡沫酸性清洁剂,表面活性剂的配方,用CIP流动冲洗法清洗生物反应器
Tergazyme: 循环过滤系统的清洗
FOR ALL OF YOUR BIOTECHNOLOGY CLEANING NEEDS!
From spinner flasks to production fermentation tanks, Alconox detergents can eliminate cross-contamination and assure reliably clean equipment for all of your biotechnology cleaning needs. Even difficult accumulated biomaterial residues on fermentation vessel agitation shafts, thermowells, harvest tubes, sparger tubes and the bevel tips of addition ports easily come clean with Alconox detergents.
When you scale-up to production, Alconox, can provide cleaning validation support, quality control and regulatory compliance documentation for all of your biotechnology cleaning needs.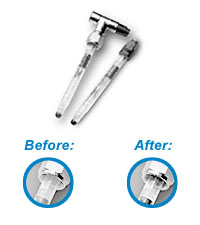 Before:

Fouled pH probes in a bioreactor result in reading failures, cross-contamination, and loss of batch control.



After:

Tergazyme enzymatic cleaner restores probe performance for accurate, uncontaminated, controlled performance.