alconox清洁剂能有效清洁核反应堆内腔和设备,快速清洁,无残留
很方便操作,低泡无螯合物的设计使得核反应堆内腔清洁的时候很便利,能快速清洁
Alconox:手工清洗,无螯合物,清除核反应堆内腔内的重型污染物
Detergent 8:低泡沫无螯合物的清洗剂
Alconox nuclear cleaners decontaminate reactor cavities and equipment without requiring lift time or strippable coatings and without difficult waste treatment or disposal.
Easy-to-use Alconox nuclear cleaners are available in low-foaming, chelate-free formulations that make decontamination and nuclear cleaning a snap.
Alconox: Manual cleaning, low-chelate heavy duty nuclear cleaner.
Detergent 8: Low-foaming, chelate-free cleaner.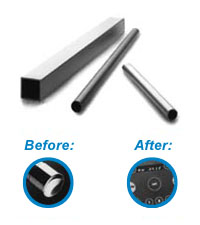 Before:

High counts indicate that decontamination is required.



After:

Reactor cavity parts pass count detection levels.